Frilled Dragon
Captive bred
2018
25CM
0 male
0 female
0 non-sexed
This animal is currently unavailable. Please get in touch to register your interest.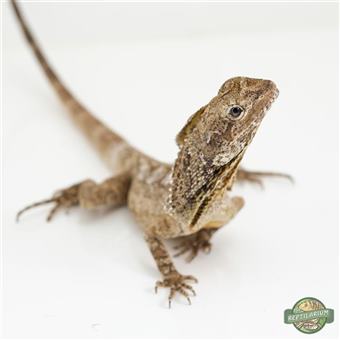 Images used for reference only, actual specimins may differ in size and appearance.
Slight bump on it's back near the tail

The frilled-neck lizard (Chlamydosaurus kingii), also known as the frilled lizard or frilled dragon, is a type of lizard that is found mainly in northern Australia and southern New Guinea.

This species is the only member of the genus Chlamydosaurus. Its name comes from the large frill around its neck, which usually stays folded against the lizard's body.

It is largely arboreal, spending the majority of the time in the trees. The lizard's diet consists mainly of insects and small vertebrates. The frill-necked lizard is a relatively large lizard, averaging 85 cm in length.
Email us about this animal
This animal was last updated over a month ago. Please make sure to contact us before travelling long distances regarding this animal.
Any prices listed are subject to change, all final prices are decided in the shop.